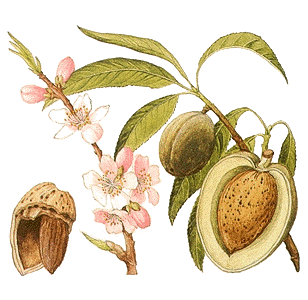 Prunus Amygdalus Dulcis (Sweet Almond) Oil is a pale, straw-colored or colorless oil obtained from almonds. Sweet Almond Oil consists mainly of oleic and linoleic triglycerides, it is full of vitamin E, vitamin A, protein, potassium, and zinc.
It is used in many different products including bath oils, lipstick, skin cleansing products, moisturizers, night skin care products and sunscreen products. Sweet Almond Oil, when applied on skin, can treat burns, heal wounds. It's also a great way to hydrate the skin. 
Sweet almond oil is mostly non-comedogenic, which means it's unlikely to clog pores. Some use Sweet Almond Oil to clean the pores, prevent acne and heal skin allergies, eczema, psoriasis, or rosacea. The benefits of sweet almond oil can be appreciated by those with oily, dry and sensitive skin.

Sweet almond oil used in Soaphoria products is sourced with respect to the environment and sustainable development.